Guarding the future: Aubright adjusts amid COVID-19 pandemic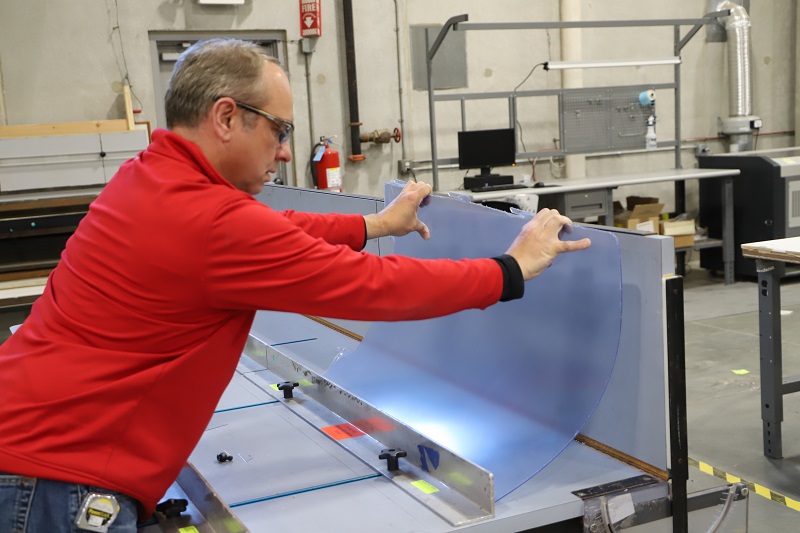 1 Jul 2020
Advanced Manufacturing, economic development, Stearns Electric
After ending 2019 strong, Aubright hit the ground running at the start of this year.
The St. Cloud-based company, which is served by Great River Energy member-owner cooperative Stearns Electric Association, anticipated another successful year and planned to leverage its growth from 2019.
In early January, however, the world started hearing reports about a novel coronavirus, or COVID-19, spreading rapidly. By mid-March, the impacts of COVID-19 were apparent in Central Minnesota, creating uncertainty for many—including Aubright, its employees and clients.
Local roots
Aubright, formerly known as Goldleaf Plastics, is a sheet plastic fabricator that creates custom products for three different market segments: retail, power sports and original equipment manufacturers.
The company manufactures custom products including retail fixtures; windshields for ATVs, boats, snowmobiles and motorcycles; face shields; museum displays; food service displays and more. It serves clients nationwide and does some international business as well.
"Since we serve three different market segments, we are very diverse compared to our competitors," said Phil Layne, senior manager, supply chain and quality. "Only about 20% of our orders are repeat orders, which makes every day different at Aubright."
The company's diverse product offering proved important a few weeks ago as COVID-19 took its toll on Minnesota.
COVID-19 response
Aubright was thrown a curveball in late March when Minnesota Gov. Tim Walz enacted a statewide "Stay at Home" order.
"We faced challenging questions we've never had to handle before: Are we an essential business? How can we ensure the health and safety of our employees during this pandemic?" Layne said. "We are following the CDC guidelines to a T. We are on-site. We are essential. We are operating."
Although many of its clients put orders on hold once the pandemic hit, Aubright found a way to continue operations and provide the necessary equipment to companies throughout the country.
As a sheet plastic fabricator, its products are in high demand, especially for industries that are looking to install guard protection for employees and customers alike. If you've been to a local grocery store or retailer in last month, you've probably done business through one of these plastic guards.
Aubright produces these types of guards in Central Minnesota.
"Acrylic and polycarbonate plastic, which is what we work with daily, make very good guards to install at grocery stores, banks, coffee shops, mass transit companies, hotels, and many other organizations," Layne said. "We have been inundated with requests for these guards. In fact, our industry has never before seen such high demand in such a short amount of time," he said. "Every day is a crazier day – stores that stayed open during the quarantine were the first to install these guards. Now though, as more and more companies prepare to re-open, several other industries seek this type of protection as well."
Aubright continues to fulfill orders as it can, although the company predicts it might get harder to do so in the coming weeks.
"At this time, there is a shortage of clear plastic. Lead times on our orders have gone from three weeks to 16 weeks," he said. "It doesn't matter if the plastic is very thin, which is used for items such as facemasks, or thick, like what we are using to create these guards for our clients, clear plastic just doesn't exist right now."
Still, Aubright remains busy, fulfilling orders as fast as it can despite the uncertain future of the economy.